Company Overview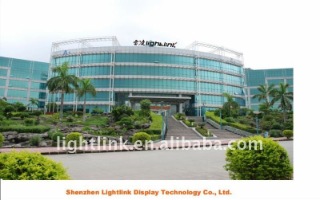 Company profile
Shenzhen Lightlink Technology Group is an integrated supplier of LED screens and LED lighting. it's headquartered in Shenzhen city, China. after 5-year experience in LED screen and lighting, Plus strong R&D capacity and advanced workmanship, Lightlink is in a good position to offer turnkey LED solutions to its customers across the globe and guarantees high quality of the products which have been exported into woarkets, such as Southeast Asia, North and South America, Europe, South Africa, Middle East,etc. and enjoy good reputation for its added value., Our excellent corporate culture,effective management and attentative services have won the hearts of all customers at home and abroad.

Lightlink has established good relationship with raw materials and components suppliers, sales agencies and other good channels. Also, Lightlink boasts its own encapsulation equipment and full-automated production line. Now Lightlink dedicating itself to the maximization of its customers' interest. This,in turn, has brought Lightlink itself rich return.


Lightlink is manned with the following hightlights:

well-trained team: We behave ourselves according to core values
evergreen Brand: the public image established with our dedication to maximize our customers' interests has now become a synonym of excellence, efficiency and high quality.

Product positioning: Lightlink aims at producing premium LED screen and ever concentrate high definition, great stability, and user-friendliness.

advanced Equipments: Lightlink owns the most advanced LED packaging equipment and modern dust-free workshop,anti-static facilities and state-of-art encapsulation devices.

production Capacity : 5,000 sqm monthly capacity can meet its customers's demand and guarantee punctual delivery

we are dedicating all efforts to higher-quality LED screens and lightings and we hereby warmly welcome customers from all over the world to cooperate with us so as to pioneer a brand-new future.






Human Resources

From its very inception, Lightlink had always been guided by the golden rule treat others as you would like to be treated yourself. This continues to apply to the way that Lightlink treats its employees, customers, distributors, suppliers, and the greater community in which we work and live. This simple motto is also the foundational element that Lightlink' values, ethics code and business unit credos are all built upon.

As an employee at Lightlink, you are not just a number or a nameless face, but part of our family. We are extremely proud of our employees and true to our values, believe in sharing our success with them. Our reputation for being a leading sagacious company where everyone is respected for their contribution, is treated honestly and fairly, and is provided with a safe and friendly work environment has allowed us the luxury of being able to select from and retain the best and brightest talent available.

This environment results in Lightlink having near-zero brain drain, which in turn helps sustain our high manufacturing quality and consistency. We understand that our employee family is Lightlink' most important corporate asset because each individual serves a vital link in helping to exceed customer expectations.